Nouvel Album "Varka" sortie le 8 Octobre 2021
(Lior Editions / Orkhestra International)
Release Party à l'Alhambra à Paris le 10 Octobre 2021
Dafné Kritharas puise son inspiration dans un répertoire né de la convergence des cultures ayant cohabité ensemble pendant quatre siècles sous l'Empire Ottoman : chants grecs, séfarades, bosniaques, arméniens, turcs...
Son 2ème album Varka (sortie octobre 2021), réunit des musiciens de divers horizons et redonne un nouveau souffle à ces chants oubliés. Bercée par les chants des îles et les rebetika, nourrie de jazz, de folk, d'une subtile note électro et de riches sonorités, portée par des instrumentistes virtuoses et des répertoires multiples, la voix à la fois intimiste, pure et déchirante de Dafné Kritharas chante l'exil, l'amour et la joie, tout en dévoilant également quelques-unes de ses propres compositions inédites en grec : histoires vraies transformées en contes mystérieux où des femmes bafouées deviennent redoutables reines des montagnes et où la mer grondante protège les opprimés.
En janvier 2021, elle est Lauréate du Prix des Musiques d'ici - Diaspora Music Awards. Elle se produit principalement en quintet avec Paul Barreyre (guitare, chant), Camille El Bacha (piano, claviers, MAO), Matthias Courbaud (contrebasse) & Milàn Tabak (batterie).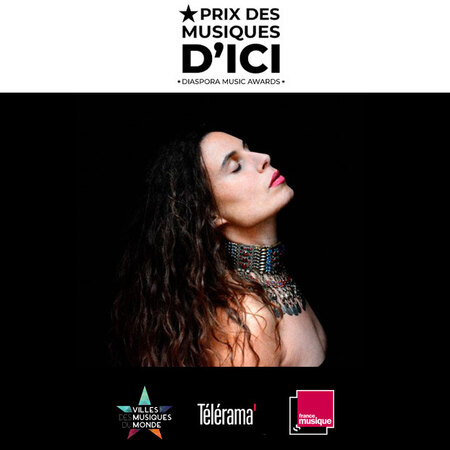 ENG: Dafné Kritharas takes her inspiration from a repertoire born from the convergence of cultures that cohabited for four centuries under the Ottoman Empire: Greek, Sephardic, Bosnian, Armenian, Turkish songs... Her 2nd album Varka (released in october 2021), brings together musicians from various backgrounds and gives a new lease of life to these forgotten songs. Lulled by the songs of the islands and the rebetika, fueled by jazz, folk and a subtle electro note, this album also stands out for its virtuoso instrumentalists. On her side, Dafné Kritharas' voice is at once intimate, pure and heartbreaking. She sings the exile, the love and joy, while also unveiling some of her own compositions in Greek: true stories transformed into mysterious tales where scorned women become fearsome queens of the mountains and where the roaring sea protects the oppressed. In january 2021, she won the Prix des Musiques d'ici - Diaspora Music Awards.
She performs mainly in quintet with Paul Barreyre (guitar, vocals), Camille El Bacha (piano, keyboards, MAO), Matthias Courbaud (double bass) & Milàn Tabak (drums).

ES: Dafné Kritharas se inspira en un repertorio fruto de la convergencia de culturas que convivieron durante cuatro siglos bajo el Imperio Otomano: canciones griegas, sefardíes, bosnias, armenias, turcas... Su segundo álbum, Varka (octubre 2021), reúne a músicos de distintos orígenes y da un nuevo impulso a estas canciones olvidadas. Acunado por las canciones de las islas y la rebetika, alimentado por el jazz, el folk y una sutil nota electro, este álbum se destaca también por sus virtuosos instrumentistas. Por su lado, la voz de Dafné Kritharas es a la vez íntima, pura y desgarradora. Le canta al exilio, al amor y a la alegría, al tiempo que desvela algunas de sus propias composiciones inéditas en griego: historias reales transformadas en cuentos misteriosos donde las mujeres despreciadas se convierten en temibles reinas de las montañas y el mar rugiente protege a los oprimidos. En enero de 2021, ganó el "Prix des Musiques d'ici - Diaspora Music Awards". Actúa principalmente en quinteto con Paul Barreyre (guitarra, voz), Camille El Bacha (piano, teclados, MAO), Matthias Courbaud (contrabajo) y Milàn Tabak (batería).
Festival au Fil des Voix, Le Café De la Danse (2 dates [Complet]), Festival Rio Loco, Concert France Musique - Le Carreau du Temple, Festival Rhizomes, Le Cargö,...
CONTACT : booking@dionysiac-tour.com / +33 1 47 07 79 85
©

Chloe Kritharas Devienne